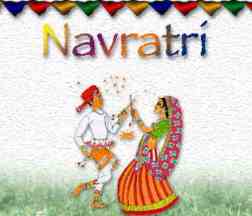 Navratri the best time to throw a Navratri party for your kids and friends. It has been celebrated in different ways in various parts of India and abroad with devotional songs, bhajans and cultural programs.  Garba is performed by placing a decorative pot with  lighted diya inside People stay awake the whole night during the nine days of Navratri and play Dandiya and Garba.We can also celebrate this festival by playing some of the  following games :
1.Dandiya Masti
One minute party game where players have to write the name of the movie against each dandiya bolloywood song.Click here to read more about. Dandiya Masti
2.Dandiya Tambola
An innovative tambola game based on Dandiya  for navratri festival. Click here to read more about Dandiya Tambola
3.Garba Dance Competition
A group party game for navratri where the players have to perform garba dance. Click here to read more about  Garba Dance Competition
4.Dandiya Decoration Competition
Give two wooden/foam/sticks made of cardboard, cello tape, scissor, glue,different color glitter tapes or ribbons, laces, golden sheets with hanging pearls,  etc. for decorating the Dandiya's.
5.Navratri Bolloywood Songs
Write  hindi movies songs based on Navratri or Durga Maa for eg. Durga hai meri ma ambe hai meri ma, Chalo Bulawa Aaya Mata ne bulya hai, Tune mujhe bulaya shera valiye etc.