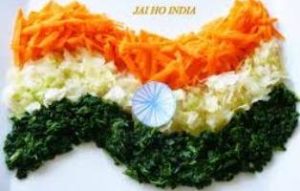 1.Match The National Dates
Write some national important dates and the events which the nation holds every year on that day in jumbled way on a paper for ex. National Navy day – 4th December,  National Airforce day -8th October, Teacher's day – 5th September, National Sports Day 29th August, National Farmers day – 23rd December, National Girl Child Day – 9th December etc.   Give one sheet to everyone.  They have to match the dates with correct event in one minute.
2.Name The States
Divide the players into teams of 4-5 people and give them a political map of India and tell them to write the names of the states in  one minute.  The team who writes the maximum right states wins.
3.Gandhi Or Nehru Cap

Let one person demonstrate how to make Gandhi cap with newspaper.  Give one page  of newspaper  to all the players and tell them to make the cap as demonstrated.  The one who makes at the earliest wins.
4.Name Your Freedom Fighters
Give a chart with photos of our freedom fighters like  Bhagat Singh, Rani Jhansi, Bal Gangadhar Tilak, Subhash Chandra Bose, Tipu Sultan, Sarojini Naidu etc. to everyone.  They have to write the correct names below their pictures in one minute.  The one who writes the maximum correct answers wins.
5.Fruits & Vegetables Of Tiranga Color
Write names of fruits and vegetables of green (green apple, peas, palak, pear,etc) white (white onions, garlic, turnip, mushroom etc.) and orange (orange, peach, pumpkin etc.) color as many as you can in one minute.