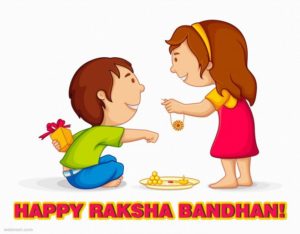 1.Guess Your Siblings
Take out childhood pictures of your siblings and cousins  and paste them on a chart paper.  Write some funny captions against the pictures as clue to recognize them.  The one who recognizes the maximum wins.
2.Rakhi Making Competition
Give craft paper/satin ribbons of different colors, a pair of scissors, glue stick, stapler with pins, glitter, a silk string, pearls,stones etc. for decoration.  Everyone has to make rakhi with these things.  The player who makes the best rakhi using her innovative ideas wins.
3.Rakhi Thali Decoration
Everyone has to decorate their rakhi puja thali by putting fresh flowers, roli, rice, dryfruits, sweets, rakhi etc.  The most beautiful thali wins.
4.Bolloywood Sibling Jodi
Write the names of bolloywood brother sister Jodi names in one minute for eg. Amisha Patel-Ashmit Patel, Ranbir Kapoor-Riddhima Kapoor, Farah Khan-Sajid Khan, Sanjay-Priya Dutt,Saif Ali- Soha Ali Khan etc. or write one name and leave blank the other name which the players have to fill.
5.
Bolloywood Brother Sister Songs
Write bolloywood songs that reflect the warmth between brother-sister for eg. Bhiya Mere Rakhi Ke Bandhan, Phoolon Ka Tarron, Behana Ne Bhai Ki Kalaai etc. in one minute. Or you can write down the first four words of the songs and the players have to complete the line.
6.Rakhi Tambola
Make tambola tickets in the shape of rakhi by using  chart paper or you can paste tambola tickets on old rakhis and can play,