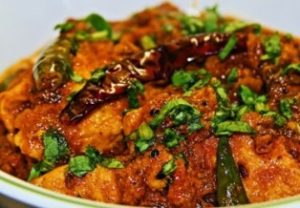 Ingredients
10 pieces of Frozen soya chap(easily available in market)
2-3 tbs Ginger garlic paste
2 tbs mango pickle masala with its oil
1 cup hung curd
Salt as per taste
1 pinch of red food colour
1/2 cup Onion cubes
1/2 cup green capsicum cubes
How to prepare soya chap

Pour frozen chaap in hot water for ½ hour and  cover with a lid.
Drain them in a strainer and squeeze well  and pat dry on kitchen towel.
Before marination you can remove the chap sticks and cut them into pieces (optional).
Mix all the ingredients mentioned above in a bowl and set aside for an hour for marination.
Grease a non-stick pan with oil or butter and add chap one by one.
Cook them on medium flame till it becomes crispy.
Sprinkle some chat masala and finely chopped coriander
Serve them hot with mint-coriander chutney and onion rings.
You can make this dish in air fryer also.  Preheat the fryer for 5 minutes at 180 deg. C.  Arrange the chaaps in the basket for 15 minutes or more as per the crispness you require.