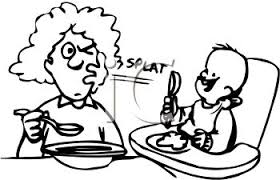 Things Required

Baby food
Spoon
A large bib for every one
How To Play


Divide the guests into pairs.
Let them  sit facing each other.
Blindfold both of them with some soft cotton cloth.
Give both of them a bowl of baby food, a large bib and a spoon
They are supposed to feed each other.
Keep a towel on their lap to protect their clothes  in case the baby food falls.
Time limit is one minute.
Winner :
The pair who is able to feed maximum baby food to each other without spilling around is the winner.The fun belongs to  all the other guests  who are watching them.!!