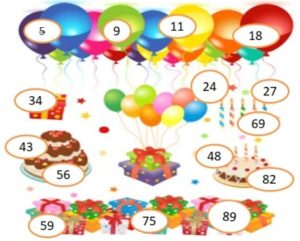 Things Required
Tambola board & tokens
Pen/pencil
Take printouts of above image as per the number of participants,
Write 15 random numbers in each ticket.
How to Play
Caller needs to pick up a token randomly and call the number.
If the number exists on the player's printout, he/she has to strike it as well as caller has to place the token on the board.
When all the numbers are cut in a particular section for example

For early five players has to say 'It's time to celebrate'
For balloons player has to say " Blown all the balloons with happiness".
For gifts player has to say "Explored exclusive birthday gifts".
For candles player has to say "Do not count the candles, count your blessings".
For cake player has to say "Wow, a tempting cake is ready to cut".
For full house, player has to say "Happy birthday to you, happy birthday to Dear ….'

Game ends when all the Sections and Full Houses are successfully claimed.
Prizes can be kept for each section and full house.