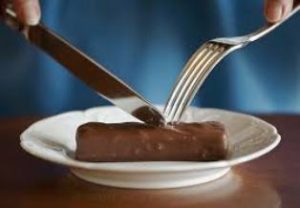 Things Required
Frozen  bar of chocolates as per the no. of players
Fork
Knife
Pair of boxing gloves
How To Play
Freeze chocolates bars a day before the party.
Give one bar of frozen chocolate, fork, knife and a pair of boxing gloves to each player.
The player has to put on the gloves, unwrap the chocolate and then try to eat the chocolate with knife and fork.
If you want you can fix the time limit also.
Winner
The player who is able to finish  the chocolate at the earliest or who eats the maximum chocolate in limited time wins.