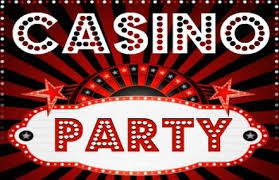 To think of having a casino themed party itself shows excitement to your friends especially for those who loves gambling when you send them the invite. This is a great way to gamble and have fun with friends without losing much of money as of casino 😉
Invitations
Send casino themed party invitations to your friends with a  feeling that their night will be one to remember.
Also put some numbers on the invitations and make sure that your guests bring their invitations.
In-between the party announce any three nos. which you have written on the invitations cards.
The three winners will get chance to play free the money games.
Decoration
Decorate the entrance with a banner "Welcome to Casinos' by giving a genuine feeling of Las Vegas.
The entrance should either be decorated with red and black balloons or with casino themed balloons  in a arch shape.
Can also decorate the entrance by making props of red and white dice, cover large cardboard boxes with playing cards on it.
Hang playing card danglers, casino swirls, posters, dice balloons, card shaped balloons  etc. around the party area.
Put some casino side cutouts of Blackjact, Craps, Poker etc.
Arrange some gaming tables on rent for playing poker, blackjack, roulette etc. and some regular tables for playing other card games in such a way that it should give a lively casino look.
For table decoration keep attractive slot machines, playing card etc. centerpieces along with dice candles.
Put green felt on your tables which will make everyone feel like they are sitting down for a game.
Turn the lights low and string twinkly lights everywhere to create mood.
Use casino themed serving trays, plates, glasses, paper napkins, coasters etc. for serving drinks and snacks.
For snacks you can have cards shaped sandwiches, cookies, brownies sausage rolls, chips, spinach and artichoke dip, Swedish meatballs, stuffed olives,  etc.
Music is always an integral part of any party. Play some Vegas and gambling theme tunes like Let's to to Vegas, Poker face, Waking up in Vegas etc. .
Dress Code
No formal dress code.
Dress up in your casual  jean and t-shirts.
Arrange themed hats, cigars and sunglasses for men and some dice bead necklaces, bracelets to women to wear as they arrive.
Games
Return Gifts
Playing cards shuffler
Playing cards and dice sets
Casino themed mug set,key-rings, cuff-lings etc.
Casino photo stand
Alarm clock in dice or playing cards shape.
A pack of dice shaped chocolates
Chocolate coins to look like poker chips wrapped in shot glasses.