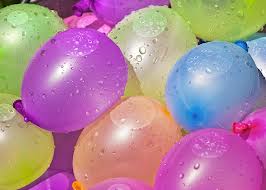 Number Of People Required To Play The Game
No restriction, as many as you want.
Things Required
Water filled balloons according to the number of players.
Two buckets per group.
How to Play
Divide the players into a group of 6 or according to the number of players.
Let all the groups stand in a row about one feet away from each other.
Keep one bucket full of water balloons in the beginning of the row and one empty bucket at the end of the row.
As the time starts first player has to pick up the water balloon and toss the balloon to the next player standing in the row and likewise till the last player.
Last player has to put the balloon in the empty bucket.
The balloons which falls down on the ground while tossing or catching shall not be counted.
Time limit is two minutes.
Winner
The team who fills the bucket with maximum balloons wins.