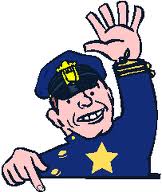 Things Required
A cap
Some fun music for background
Lot of naughty kids 🙂
How To Play
The game starts by making one of the kids The Cop and another kid The Con.

Now give cap to kid who is playing The Con and ask him/her wear the cap & run.

The Cop now needs to run and catch The Con.

Twist is that The Con can transfer his/he cap to another kid and The Cop now has to catch this new Con.

Once The Con is caught, he can play The Cop and game starts again.

You can play this twice or thrice to keep the kids entertained for a while.
Winner
Everyone is a winner as they enjoy playing the game with loads of laughs and running around. 🙂