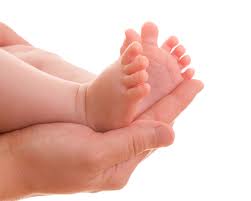 Previously: Preface to a journey of motherhood
I would start from the day I missed my periods and a home pregnancy test confirmed that I was indeed pregnant. Well as read in story books or seen in Bollywood I neither jumped with joy nor did my hubby lift me in his arms!!
After the early morning urine test in cold month of December, I went back to my half asleep hubby in the cozy quilt and announced with an element of surprise and disbelief that I was pregnant. I said it as a matter of fact and I cannot recall if he reacted at all. All he said was come to me and let's sleep for some more time. My mind was spinning and I was more interested in discussing the impact it will have on my career and my life than sleeping.
First thing I said was "Shit! I was supposed to leave for US in first week of January – guess I will have to tell my company that I can't go! This is a new company I have joined just 4 months back, I don't know what impact it will have on my career?" My hubby felt apologetic and guilty of putting me into this situation but assured me that whatever be my decision to keep or not keep the baby, he will support me.
Two days later we were to leave for our year end vacation to Israel and as if not going to a gynecologist will somehow reverse my pregnancy, we both decided to see the gynecologist after we come back from our vacation and not go on vacation with the confirmed knowledge that I am expecting.
Just to be safe I called up my mom and told her that home test is positive and seems I am pregnant, yet I am going on vacation. My mom was pretty chilled out. She felt happy and said there is nothing to worry since it's been just a few weeks. She told me to have a good time and get the blessings from the holy land where Jesus was born. "Your child will also get the blessings" was all she said. With my mom's assurance and good wishes I left for Israel with my hubby.
It was a happening vacation and throughout, I and my hubby avoided any talks about me being pregnant. I had wines/beers, dip in ocean, and wore high heels on New Year's party. Smoked a flavored hookah and got intimate. Only thing unusual was -me feeling very sleepy at certain occasions and sleeping at lengths. That time I did not know that high levels of estrogen/progesterone in my blood are playing their part. My hubby was ever optimistic that the home test is incorrect and there is no pregnancy.
It all seems too funny now. We both are free, fun loving souls and we knew how big a responsibility a baby is.
To be continued with next chapter – Visit To Gynecologist & Baby Heartbeat…
If you wish to get an email update when the next chapter is posted, you may subscribe here.
Don't forget to share it with your friends if you like it…!! 😉