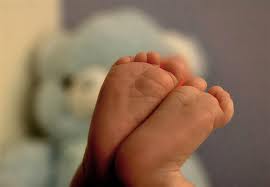 Previously: Chapter 4 – Few days Before The D-Day
When I got up the next morning, I felt that some fluid had leaked. I changed my undergarments but those got wet again. I put on a sanitary pad and told my hubby and mother-in-law (who had arrived by now, to offer a helping hand). My mother-in-law found it unwise to wait and asked me to call my Gynecologist.
I explained the situation to my Gynecologist and she asked me to get admitted to hospital. I quickly took bath. We took our already prepared baby bag – complete with baby clothes and other essentials, some cash and left for hospital.
I was sent to pre labor room, and was put under observation with symptoms of leaky uterus. A delivery seemed not possible, as the baby was still not down, but the hospital refused to discharge me as the uterus was open and there was chance of infection.
By evening I was given some oral and intravenous medicines to induce labor pain- but I had none. My doctor was disappointed that I feel no pain. I was put on a drip to induce labor pains and oh!  Around 8PM I was in labor. By 9 PM it was so intense that I could not even walk to the bathroom to relieve myself and had to be assisted. Every now and then one junior doctor will come and put her hand in, to see and declare that the baby has not taken position yet, although the pains are good enough. Whole night this continued as I writhed in pain. Doctors were hopeful that by early morning my bundle of joy will get delivered. I spent the whole night in intense pain. I was told that labor pain is just a little more than the pain and heaviness one feels during periods but NO it was much- much intense. It was like a wave of pain with its trough and peaks and the peaks were almost killing.
Next day till afternoon nothing happened and I continued to be in intense pain. I was given endomorphin, to ease the pain but that did not help much.
By afternoon my parents and other family members also gathered in the hospital. When my father saw me in labor room- he for the first time realized how painful child birth process is for women. In his times nobody was allowed to enter the labor room and men specially stayed away from these womanly chores. He had no idea how a woman wriggles in pain when in labor. All he said was "It is very painful" and went out. My mother was also quite uncomfortable with my situation, considering that I was in labor since 20 hours now. She suggested my hubby to go for a C-Section – although she herself was a big supporter of normal delivery. All 3 of her children were born out of normal delivery.
At 4PM I gave up and told my hubby that I can't take the pain anymore and would prefer to get a C-section done. He consulted the doc tor and the doctor agreed that more pain and contractions are not good for me as well as my baby. It will exhaust both me and the baby.
It was decided that a C-section be done immediately. Before I knew, I was on a stretcher, being taken to operating theatre.
Inside the operating theatre, a few male attendants were called upon to help bring out the fluid that surrounds the baby in the baby bag. They pressed hard just below my chest and with a gush all the fluid came out.
I felt as if my body is a public property. From junior doctors to male nurses anyone can touch the parts of my body which were till yesterday "private".
I was given lower body anesthesia to start the operation.  The lower part was hardly visible to me due to presence of some kind of barrier and a cloth over it. The doctor put a knife like object on my abdomen and asked if I can feel it and I almost shouted "Yes, I can feel it don't start right now". Looking at my hysteria they called upon a nurse who massaged my face and distracted me by asking questions like: "Is it your first baby?"  "Do you want a boy/girl?"
After a few more minutes I heard the doctor say "Mana, beti hai" (Mana, it's a girl), followed by wails of my new born baby. Later I got to know that the time was 4:45PM.
She was brought close to my face – just born, all naked, wailing maximum to her lung capacity. My immediate reaction was to offer her a kiss. I kissed her twice before she was taken away.
To be continued with next chapter – Welcome To Our World…
If you wish to get an email update when the next chapter is posted, you may subscribe here.
Don't forget to share it with your friends if you like it…!! 😉