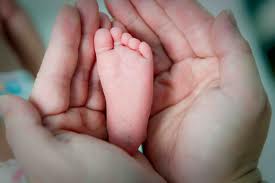 Previously: Chapter 5 – SOS Baby Is Here…!!

I was shifted to a recovery room after the operation. I felt numbness in my lower half and was bored staring at the ceiling when suddenly I saw my hubby entering the room. He looked as tired as I was. It seemed as if he had gone through the same pain as I. He hugged me and beaming with happiness exclaimed that we have a little beautiful daughter now! He showed me our baby's first picture which he had taken on his mobile. He looked extremely happy and as relieved as I!
I asked him where the baby is.? He told me that she will be kept in the nursery overnight for observation and will be handed over to us the next morning.
Next to meet with me was my mother-in-law. She too hugged me and joked that finally I am out of the pain.
Next came my parents and my dad told me with great joy that I have a pretty daughter. He said she is beautiful! My father rarely says this for someone so it came as a big surprise.
All Indian families wish for a boy and my family was no different so I was unsure whether or not they will welcome my little girl with same enthusiasm as they would have welcomed a boy.
Finally, it was time to shift me to our pre-booked hospital room where I will be with my family again. On the way; the hospital attendants asked me if it was a girl/boy. When I told them it's a girl they were quite disappointed since they thought that they will not get any "baksheesh" (some reward/tip) from my family. After all we do not celebrate birth of girls in India.
When I got shifted on the bed of my private room, I saw boxes of sweets on the side table. My father-in-law informed that instructions have been given to distribute sweets in my hubby's native and the whole world has been informed about the arrival of our little princess.  My hubby quickly took out some money for the attendants and offered them sweets. Surprised by his act they left happily.
I was content that my family is happily celebrating the arrival of my little girl.
I slept for the night, tired with excitement and pain.
Next morning around 10AM my hubby got our daughter from the nursery to me and I held her for the first time. She was too tiny, just a red limp bundle. I kissed her and put her by my side.
To be continued with next chapter – The First Day & Night…
If you wish to get an email update when the next chapter is posted, you may subscribe here.