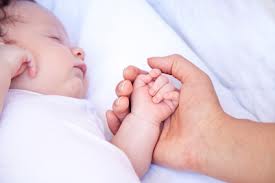 Previously: Chapter 6 – Welcome To Our World..!!
News of arrival of our baby had spread and it was time to receive congratulatory messages on phone. Many friends and family members came over to hospital to visit including surprise visit by my elder sister from Hyderabad.
This time another guessing game started- who does she look like -I or my hubby? Some said she is my carbon copy while others claimed that she is just like my hubby. Some thought her eyes were like mine while her lips were like my hubby.
Around afternoon, the pediatrician came to teach me how to feed the baby and how to take care of her. She asked me to feed the baby in front of her, so she may see if there is any milk coming! I had by now accepted that my body is public property here plus I had no option but to give in to her request. After teaching me few ways to feed the baby she left and commented that my milk is not coming yet. My hubby was quick to retort that I have been in pain since last 2 days and have not eaten properly. She immediately instructed the nurses to get me good nutritive food and asked me to try again after 2 hours. Meanwhile the nurse arranged for some formula for the baby.
After exactly two hours I tried to feed her. To begin with, the feeding process seemed very painful. When my daughter sucked I felt oh my god she is so tiny yet she sucks so hard, that it hurts. I was almost in tears with pain and felt that this feeding business is not my cup of tea. The doctor assured that I will feel better with time and it will not be as painful later. The little baby mostly slept through the day. After some sleeping, feeding and potty sessions it was night time- the most dreaded time!
We had heard numerous stories – babies not sleeping at night and crying endlessly. Many of the wishes during the day were about happy sleepless nights ahead.
After feeding the baby I put her to sleep. My mother-in-law and my hubby both decided to stay back with me. When all of use went into deep slumber after an exhausting day – the baby started crying.
My mother-in-law suggested that I feed her since she is hungry. Small babies feel hungry every 1-2 hours. I fed her half asleep but she kept crying. It seemed my milk was not enough for her. My hubby quickly arranged for some formula from the nursery and after taking some formula she slept.
We all settled to sleep again and after a few minutes the crying started again. We checked her nappy, I tried to feed her again, but nothing worked this time. She kept crying endlessly. My hubby tried to rock her but nothing worked.
We called the nurse yet again and she suggested may be her nose is choked as it had rained during the day, maybe she caught slight cold. The nurse put some saline drops in her nose but that did not much help and crying continued for quite long. I was in great pain after C-section, so my hubby and MIL took turns to rock her and put her to sleep. Finally she slept and all of us too dozed off.
I could not believe that these are the kind of nights in store for us every day now. That I will have to wake up every 2-3 hours to feed her especially when I found that feeding hurts. That she may cry endlessly and we will have to guess in middle of the night as to what could be wrong – dirty diaper/choked nose?
I had read so many articles about soothing a crying baby but it seems nothing came to my mind that time. I felt so unprepared and unequipped for the situation at hand. It seemed that this entire baby raising business is one about trial and errors. Try, try and try till you succeed.
I did not have much mental/physical strength to make a plan to handle the situation and preferred to follow my mother-in-laws advice most of the time. Whenever she asked me to feed her I fed her, whenever we felt there was a need to rock – we rocked her. I was told that best is to sleep whenever the baby sleeps since I need lot of rest after the child birth process. I followed this advice religiously and slept whenever the baby slept.
After another day in the hospital and another night of crying and feeding and potty cleaning it was time to get discharged and go home. Hospitals no matter how good they are suck and I looked forward to go home.