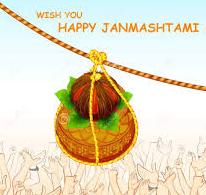 Things Required
Two 10 feet high poles
A rope decorated with flowers
4-5  Handi (Clay Pots)filled either chocolates or some gifts instead of buttermilk.
5 ft. long wooden stick
How To Play
Fix the two poles say 15 feet apart.
Tie a rope decorated with flowers between the two poles.
Hang a decorated clay pot in the center of the rope filled with some chocolates or gifts.
Mark a starting point say 10 feet from the poles.
Blindfold the player and tell him to break the pot with the help of a wooden stick.
Time limit is one minute.
As the time starts, the player will walk towards the pot and will try to hit the pot with the help of wooden stick.
Other players can help him  by guiding the player the right direction.
Winner
The players who are able to brake the pot are the winners.