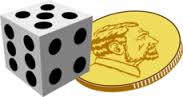 Thing Required
Coins of Re 1,2 and 5 denomination
One dice
How To Play
Give nine coins ie. 1,2 and 5 Rupee denomination (3 each) coin to every player.
Each player will roll the dice
If the player rolls 1,2 and 5 they have to give that denomination coin to the next player.
If it is 3,4 and 6 nothing is to be given and the player will have to wait for the next round.
As soon as your coins are finished you are out of the game.
Winner
The player who plays till the end with maximum coins wins.