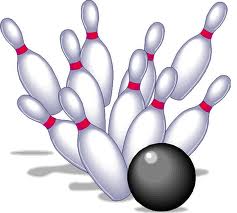 This game will be a new twist to an old one & your guests would not be able to stop themselves after seeing Egyptian Mummy Bowling set. It sure will be a fun game for the party.
Things Required
Bowling set
White gauge bandages
Scissors, glue
Round shaped black buttons
How To Play
First of all you have to convert the plastic bowling pins into Egyptian Mummy Set. For that just wrap white gauge bandages around them and stick black round shaped buttons as eyes over them & Egyptian mummy is ready.
You can play the game in teams or individual basis also. It's up to your choice.
The participant has to throw/roll the bowling ball and knock over the "Mummy" pins.
Winner
The team/participant which knocks maximum number of pins would be the winner.
If there is a tie between 2 or 3 groups, there would be a "Super throw" to decide the winner.