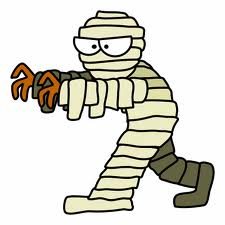 This is one of the best games for a halloween party if your party has couples. Even if there are fewer couples in party you could make pair of two persons and play this fun game. You could put the posters of pyramids in the party area to create the aura of Egypt. Keep some bones/skeletons near the gaming arena to add more thrill into this.
Things Required
Cotton bandages or  toilet paper
How To Play
Ask your guests that they have to wrap their partner with bandage or by toilet paper to make him/her look like a mummy.
While wrapping the partner, participants need to ensure that they are properly wrapped up without leaving any gaps.
Winner
The couple who will do this activity first will be the winner.
Take a photograph along with the winner Mummy 🙂