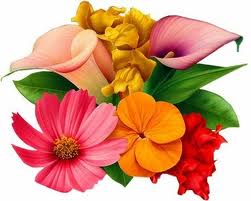 People organize parties to have fun & socialize. The better way to show your creativity is to have a theme party.  We can host a refreshing and colorful flower based theme party not only during Spring when the pretty flowers bloom all around you and nature looks so beautiful with greenery and full of life but also at any time of the year with a combination of artificial and seasonal flowers. The party can be indoor or outdoor.
Here we will share what all things you can keep in mind when it comes to decoration, dress code, games and return gifts while organizing a floral theme party.
Decoration
Decorate the entrance with strings of flowers either in a traditional way or in a creative way. You can also make rangoli with flower petals at the entrance.
Also decorate the entire area whether the party is indoor or outdoor with  strings of fresh flowers which will bring freshness and liveliness to the ambiance. The flowers can be daisies, marigold, roses, lilies, sunflower, jasmine, iris, tulips, begonias etc.
Keep the crystal bowls with floating candles and flowers in the corners.
To make your table decoration great, keep miniature vases showing different types of flowers with a sprinkling of rose petals on the table which will give an elegant look and soft glow to the party.
Keep some flower garlands at the back of the chairs.
Either your can decorate the serving trays with flowers while serving drinks and snacks or you can use crockery shaped like flower pots for serving snacks and watering cans for pouring drinks.
For snacks you can have flower shaped sandwiches, cookies, brownies etc.
Select floral paper plates and paper napkins for the party
Dress Code
The ideal dress code would be any dress with flowers on it.
You can opt for flower jewellery like a single flower can be worn as an earing and  another one can be used as pendant for your neckpiece.
Flowers can be used as accessories like wrap a string of flowers on your wrist or tuck a beautiful flower in your hair.
Make beautiful head gears with flowers and give one to each of the guests as they arrive.
Games
Musical Flowers instead of Musical chair – Cut large flower shaped chart papers and place in a row on the floor in place of chair. Play the music with flower themed song.
Keep rangoli competition i.e. rangoli with flower petals.
Make the longest garland with the help of needle, thread and flowers.
Singing competition i.e. songs with any flower name in the lyrics.
Paint the clay flower pots within a time limit.
Return Gifts  
Bouquets for the guests to take home
Little bag of floral-themed accessories like clip, earrings etc.
Flower shaped biscuits or cookies wrapped in bags with pretty ribbons.
Hope you enjoyed reading these ideas about flower based theme party. Do suggest if you have some more party theme ideas, we will be glad to hear back from you as usual 🙂