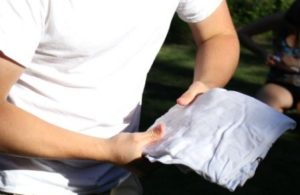 Things Required
How To Play
Ask all the players to send their t-shirts one day before the party or old t-shirts can be used.
The host will soak them in water so that they can absorb more water.
Flatten all the t-shirts and fold them as small as possible and freeze them.
Line up the players and give their t-shirts to wear.
As the t-shirts are frozen so it becomes harder to wear.
The players can use whatever means possible for eg. throw them on the ground, rub them with hands, roll them etc. to unfold the t-shirt.
Winner
The first one to wear the t-shirt wins the game.