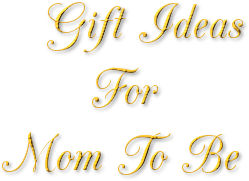 It's a special time for friends and family alike when a woman close to them is expecting. While most of the people shower expecting women with blessings, some gifts for the lady to make her feel special are any day a refreshing idea! Here at Ladies Kitty we have compiled a list of gifting ideas for Moms to Be. Well, the options are limitless but here are a few suggestions:
1. Body Massage
Most of the women feel tired at the end of the day during pregnancy and a body massages, covering – legs, arms, head and shoulders will be a wonderful gift. If you are close enough you may pamper the lady by being the massage boy/girl yourself or buy her massage vouchers of some nearby beauty clinic.
2. Shopping vouchers
Women find pleasure shopping and it many times acts as a stress buster for them. Gift, shopping vouchers to the expecting lady and watch her indulge!
3. Yoga classes
Women need to keep fit and agile during pregnancy. Gifting some Yoga classes' membership will motivate a pregnant woman to keep fit.
4. Swimming Classes
Swimming is considered one of the best exercise during pregnancy and it also helps women keep cool when their hormones peak. Think of gifting swimming classes' membership for a month or two.
5. Cook her favorite dish/ Take her out
Pregnancy is tough on women's body. Some start disliking certain foods and odors while craving for certain foods intensifies. Find out her latest food obsession and either cook it for her or take her out to the place which serves it!
6. Be her chauffer
Women find it hard to travel around in pregnancy what with so many precautions. You can pamper her by being her chauffer once a week or month and take her to her places of interest.
7. Belly Belt
This is a must have for all expecting mothers especially after 5-6 months when the baby bump is big enough. These provide good support and are an ideal gift.
8. Lingerie
A perfect bra is another must have during pregnancy due to ever increasing breast size. This gift ensures a woman's assets are best taken care of!
9. Nice Dress
Baby bump flaunting pregnancy dresses are a must have in any pregnant woman's wardrobe. Gift the ones which flare on the bump and give full view  J .
10. T-shirts
Lot of funky T-shirts with messages as "Baby Loading" etc. is a cool gift too.
We hope that you find these gift ideas helpful. Do share with us which one is your favorite gift idea :).