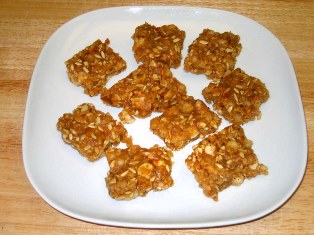 Ingredients
50 gm. Gond  or edible gum resin
1 cup ghee for deep frying gond
100 gram makhana
50 gm melon seeds
25 gm chironji
25 gm chopped almonds
1 cup grated coconut
2 cups sugar
1/2 tsp green cardamom
1 1/2 cups water
How to make Gond Panjiri
Heat ghee in a kadai and deep fry the gum resin on medium heat.
Lift them out of the ghee quickly as it fluffs up very quickly and becomes double the size within seconds. Let them cool.
Dry roast makhanas, melon seed, chopped almonds, chironji and grated coconut separately.
Coarsly grind fried gum resin and roasted makhana also.
Mix dry roasted chopped almonds, grated coconut, melon seeds and chironji.
Boil the water and add sugar.
Continue boiling and make syrup of one wire consistency.
Add fried powdered gum resin, and other ingredients alongwith cardamom powder to the syrup and stir quickly to mix everything well.
Turn out on to the greased tray.
Flatten with the back of the spoon or with the help of greased rolling pin. Allow to cool.
Cut into square or diamond shapes using a sharp knife. Store in an airtight tin or box.