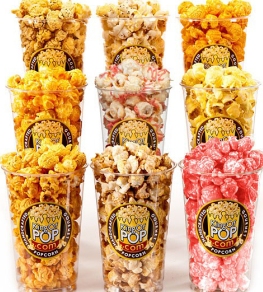 Things Required
Different flavours of popcorns
How To Play
Keep 7-8 flavors of popcorn eg. Butter popcorn, Cheese popcorn, Chocolate Caramel popcorn, Almond Pecan popcorn, Spicy  popcorn, Peanut Butter popcorn, Salted Caramel popcorn, Caramel Apple popcorn etc. in different bowls.
Blindfold the player and feed him the popcorn.
The  player has to guess the flavor of the popcorn.
Time limit is one minute.
Winner
The one who is able to guess maximum flavours wins.
The best part of the game is: you can eat the popcorn even if you don't win!!