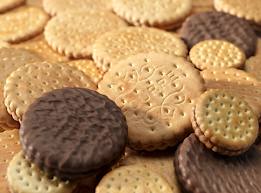 Things Required
Variety  of biscuits like Parle G, Bon Bon, Good day,Hide & Seek, different types of cream biscuits,50-50 etc.
Paper Bags
Pen/pencil & Paper
How To Play
Cut all the biscuits into small pieces like a small bite.
Keep one piece of each type  of biscuit in a paper bag.
Give one paper bag,pen/pencil and paper to each child.
Every child has to eat the biscuit and recognize the brand of the biscuit and write on the paper.
Time limit is one minute.
Winner
The child who recognizes maximum biscuits in one minute is the winner!!