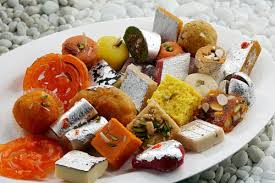 Things Required

Write names of some of famous Indian Sweets  in English and get it photocopied as per the number of participants. Some of the sweet names in english are given below:

Holy Mysore
Pakistani Carrots
Message
Rose Berries
Artistic Stem
Royal Meal
Droplets
Glitter
Creamy Syrups
Honorable Piece
Like Husband
Royal Sand
Water AB
Mercury Sugar

Pen/pencil for each participant.
How To Play


Give one sheet and a pen to each participant.
Each participant has to recognize the name of the sweet and write the answers which are as below :

Mysore Pak
Gaajar Pak
Sandesh
Gulab Jamun
Kalakand
Raj Bhog
Boondi
Chumchum
Ras Malai
Shahi Tukda
Patisa
Baalu Shahi
Jalebi
Shakar Para

Time limit is one minute
Winner
The one who writes the maximum correct answers wins!!