Ingredients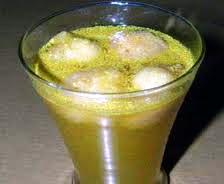 1 kg – Urad dal.
2 small piece – Hing (Asafetida)
3 tsp – Salt
4 tsp – Rai (finely ground)
2 tsp – Red chilies (pounded)
6 jugs Water
Oil for deep-frying
Whole red chilies for garnishing
How To Make Kanji Ke Vade
Soak washed urad dal overnight and grind to a fine paste.
Whisk it very well so that the mixture is fluffy.
Heat oil well in a deep frying pan.
Slide some mixture flattened to the shape of round one-inch vadas, one by one into the oil, and deep fry to a golden brown color.
Keep a tawa on the fire and put the crystals of hing on it.
Take a matka (an earthenware pot) and as soon as the hing emits the aroma, turn it upside down on the tawa.
Fill the matka with  warm water.
Mix the rai, salt, red chili powder and whole red chilies into the water.
Now put the fried vadas  into the matka.
Cover the top of the matka with a clean muslin cloth tightly.
Leave the matka in the sun for4-5 days, only in daytime. Keep the matka inside in a warm place at night.
Tip – Before putting the vadas in Kanji, put them in lukewarm water for 10 minutes and squeeze the vadas and the put them in matka. The oil absorbed by the vadas while frying will be squeezed out.