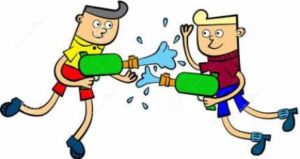 Thing Required
White T-shirts
Water guns
How To Play
All the participants have to wear white t-shirts.
Divide the players into two groups.
Give red colored water filled guns to one team and green colored water filled guns to another team.
The twist of the game is that everyone has to target the chest area of the opposite team for throwing the water and at the same time save themselves from getting the stain on their chest.
As the time starts, everyone will start putting the water on each other team
Whoever gets a stain from the opposite team on the chest loses the game.
Time limit is one minute.
Winner
The team with maximum players with no stain on the chest area wins.