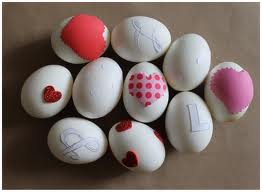 Number of People Required To Play The Game
No restriction.
Things required
Some love stickers like heart,love,rose etc.
Some ordinary stickers
Some boiled and peeled eggs.
One tray
How to Play
Mix the stickers and place them upside down on a tray.
Player has to stick only love stickers on the  boiled egg.
Time limit is one minute
Winner
Player who sticks the maximum no. of love stickers is the winner.
Image Credit: linenlaceandlove.com