Ingredients
For Sugar syrup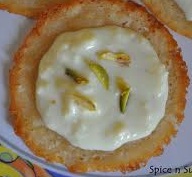 2 cups water
2 cups sugar
1 tsp saffron (kesar) strands
1/2 tsp cardamom powder
For Malpua
200 gms flour
Ghee or oil for deep fry of malpuas
1 ½ litre Milk
For Rabri
1 litre  Milk
1cup sugar
Chopped Slivered almonds and  pistachios for garnishing
How to make Syrup
 In a pan, mix 2 cups of water and 2 cups of sugar and boil.  Keep on boiling the syrup until  you get a single-thread consistency.
 When the syrup is ready add the cardamom powder and saffron strands and mix well. Keep the syrup aside.
How to make Malpuas
 Boil milk in a heavy-bottomed pan. Reduce heat and simmer till it is reduced
Add refined flour, green cardamom powder and 2 tsp. of sugar to the reduced milk. Mix well and make a batter of pouring consistency using a little milk if required
Heat enough ghee in a flat bottomed  frying pan to cook the malpuas.
Cook till golden brown. Remove from the oil
When the oil is hot, use a ladle to gently pour the batter into the oil to form circles about 4″ in diameter.
and put directly into the sugar syrup.
Remove after 2-3 minutes and drain on a wire rack with a plate underneath to catch the dripping syrup.
How to make Rabri
Mix the milk and 1 cup of sugar in a thick-bottomed  pan and cook to reduce it to a fourth of  its original volume. Stir frequently or the milk will burn at the bottom of the pan.
When the milk has thickened as above, remove it from the fire, allow it cool and then chill in the refrigerator.
Serve the malpuas in a plate with a spoon of rabri over them and garnish with slivered nuts.
Tip – In place of rabri, cream can also be used for garnishing.
Image Credit: anjali-cooklog.blogspot.com