MSM Box – 'a lot in a little' has emerged as an innovative gifting option for various occasions such as Bridal Showers, Baby Showers, Birthdays & not to forget Kitty Parties in a short span of time. We got a chance to interact with them and here is what we got to know…!!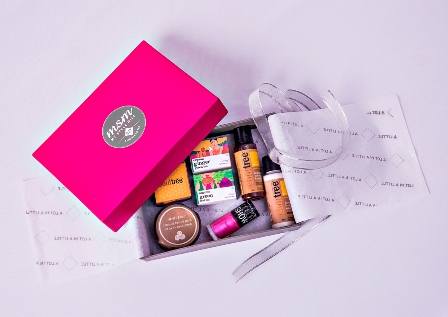 MSMbox.com began in 2012 as a beauty & fashion blog, with the aim of providing quality content to its readers, and of keeping them updated with the latest global trends.
However the co-founder and chief editor, Bindu (a self-confessed beauty junkie herself!) soon realized that more was needed than just content. She realized how difficult and inefficient it was to sift through innumerable beauty brands in the market and to figure out which one to buy. Thus was born the idea of a curated beauty box service.  MSMbox.com was finally launched in Oct 2014.
Simply put, MSMbox.com is a discovery e-commerce platform that offers consumers the opportunity to buy, try and enjoy beauty and lifestyle brands from across the world.
MSM Box is pre curated and is available in 2 variants, "MSM Express" priced at Rs.495, which contains products from new and upcoming brands & "MSM Select" priced at Rs.995, which contains products from established and premium brands. Every month, you get a surprise goodie box containing beauty, grooming and lifestyle products.
Our tagline – 'a lot in a little'- sets us apart.
To really delight the consumer, we don't just take care of your beauty and grooming needs. We go the extra mile and offer something more through our collaborations and associations with leading salons/spas, cafes and shopping.
Excited to gift the MSM Box? Subscribe here – they have discounted offers if you choose 3 months, 6 months or annual subscription.
*Disclaimer*: We received a complimentary MSM Express Box to get a first hand experience before speaking to our readers about it.