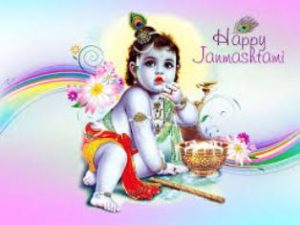 Things Required
Write the pair of words on paper related to Janamasthmi for ex. Makhan chor, Laddo Gopal,Mathura Vrindavan,Shayam Sunder,Radha Krishna,Ras leela,Gopi Gawal,Basauri Morpankh,Deevke Vasudev,Yashoda Nandbaba,Murli Manohar,Krishan Sudama,Dahi Handi,Madhu Sudan,Goverdhan Parbhat,Banke Bihari  etc.
Two bowls
One flute
How To Play
 Write the above names on  paper chits for ex. Radha one one chit and Shayam on another chit.
Fold them and put one set of chits in one bowl and the related set of chits in another bowl.
Let everyone sit in a circle.
Give one chit to all the players from one set of bowl and the other bowl will remain with the host.
Give the flute to any of the players.
As the bhajan starts, the players will start passing the flute  just as passing the parcel.
As the bhajan stops, the player holding the flute will take one chit from the other bowl and read the name.
For ex. If it is Gopal, then the players who is having the Laddo  slip will be considered OUT.
Resume the game again till one player is left.
Winner
The player who remains till the last is the winner.