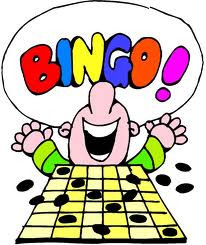 Things required
Paper and pencil for each player
One Sheet  containing  108 names of Maa Durga for ex. Sati, Saadhvi, Ratnapriya, Lakshmi,  Bhavani, Arya, Durga, Jaya etc.
108 chits with Maa Durga names on it.
One empty bowl
How To Play
Give paper and pencil to everyone with  30 small empty squares in them just like bingo ticket.
Let everyone write any 15 names of Maa Durga of their choice in the chit(5 in each line)and keep the remaining squares blank.
The organizer then goes around the  players  and tell them to pick one chit from the bowl.
He then announces the name written on that chit  and the players who has that name  on their sheet can  strike it off as well as the organizer has to strike that name from the list of names  for verifying.
Game ends when early 5, corners, all the rows and full houses are claimed.