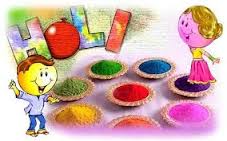 Number Of People Required To Play The Game
No restriction, as many as you want.
Things Required
Balloons
Water Gun (Pichkari)
Water Mug
Sweets
Color
Thandai & Glasses
Few tables
How to Play
Set up all obstacle course with a start and finish line. An example of an obstacle course could be like this:

First obstacle: Blow one water balloon with water gun (pichkari).
Second obstacle: Put one mug of water on your head and go to the next obstacle without dropping the mug.
Third obstacle: Eat one sweet kept on the table. Player has to eat the sweet completely before running for the next obstacle.
Fourth obstacle: Pop two water filled balloons with your feet.
Fifth obstacle: Put color on your forehead
Sixth obstacle: Drink one glass of thandai.

Each player then has to run through obstacle course to the finish line.
Winner
Player who reaches first after crossing all the obstacles is the winner.!!
It is  a hilarious game and everyone has  lot of fun, You can  add  some different  obstacles but be sure everybody laughs!!