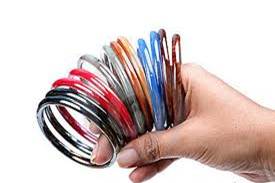 Things Required
One sharpened pencil
10-15 metal or plastic bangles
A stand to fix the pencil tightly e.g an eraser/rubber or a small piece of thermocol)
How To Play
Put the pencil in eraser or piece of thermocol such that it is standing straight.
Draw a starting line at approximately one feet distance from pencil.
Now, each player will get one minute to throw the bangles and put in the standing pencil.
Winner
Whoever puts maximum bangle in one minute will be the winner.