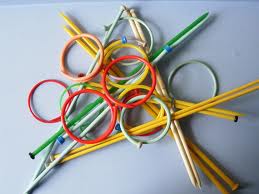 Things Required
Different color bangles (Minimum 10 bangles of 3-4 colors each)
2 knitting needles
Tray
Bowl
Paper chits with colors of bangle written on it
How To Play
Keep all the bangles in a tray & paper chits in a bowl.
Participants will play this game one by one.
Ask participant to pick one of the chit, say he/she picks a chit of green color.
Now give 2 knitting needles to the player.
He/She needs to pick only green color bangles with the needles.
Time limit is one minute.
Winner
Whoever picks maximum bangles in one minute will be the winner.