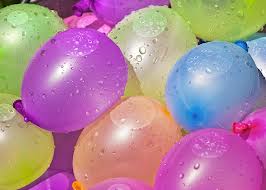 Number Of People Required To Play The Game
No restriction, as many as you want.
Things Required
Water filled balloons as per number of players.
How to Play
Divide the players equally into groups and give them one water balloon per player
Draw a starting line and a finishing line.
As the time starts, the player will run towards the finishing line with a water balloon.
After reaching there he will sit on the balloon and pop the same.
Now the second player will run only after the first player has popped the balloon and so on till the last player.
Winner
The group who completes task at the earliest is the winner.