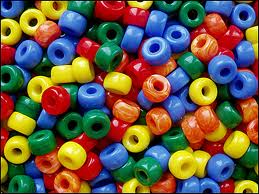 Things Required
Beads of all rainbow colors ((Red, Orange, Yellow, Green, Blue, Indigo, Violet)
Threads
Bowls or paper cups to keep beads
How To Play
Keep different color beads in different bowls/paper cups.
Each kid has to put these colored beads in a thread in rainbow order i.e. first red, then orange, then yellow, green, blue, indigo, violet and so on.
They have to repeat the order till 1 minute is over.
A string of beads which is not in correct order will be dis-qualified.
Winner
Kid who puts maximum beads in the thread in correct order in one minute.