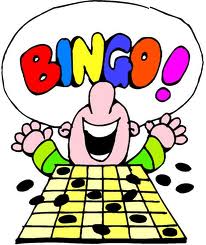 Things Required
Tambola board and token
6 Paper chits
2 Bowls
How To Play
Give one tambola board  and tokens kept in a bowl to one couple.
Write the following on six paper chits :

1-15  Dil Toh Baccha Hai Ji
16-30 Yeh Jawani Hai Diwani,
31-45 Hum Tumare Hai Sanam,
46-60 Kya Cool Hai Hum,
61-75 Teri Meri Kahani ,
76-90 Buddha Mil gaya

Fold the chits and put them in a bowl.
The couples have to take out one chit from the bowl.
Accordingly they have to find the tokens and keep them on the board.
For example if the chit is for 46-60 Kya Cool Hai Hum the couple has to find the tokens from 46 to 60 from the bowl and keep them on respective nos. on the tambola board
Time limit is one minute.
Winner
The couple who is able to keep maximum correct nos. wins!!