Oh well, it was first b'day of my friend's baby girl and I had a hard time finding a great gift for this sweet little princess. I didn't want to buy usual clothes or boots. I wanted it to be something more meaningful and useful. Here, I am sharing a list of gift ideas for 1 year old that I could finally come up with and I will definitely tell you what I chose at the end of this post :).
Doll House Tent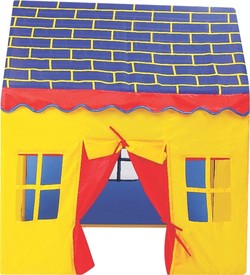 This is a wonderful gift to please the little girl. This tent requires minimal effort to set up. This cute little tent is quite spacious to contain lots of toys inside it. Even parents can join the kid and share a fun time inside it.
One good part that I particulary like about this doll house tent is that it is home washable. So it frees up the parents from getting worried that it will get dirty. It is designed for kids aged between 12 to 72 months.
Digger The Dog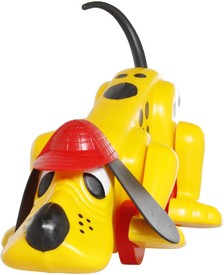 I gifted this to my nephew on his first b'day and he seems to feel very proud to walk his doggy around the whole house. It of course makes this gift as one of my personal favorite.
A rope is attached at front of the toy to hold and move around. Digger The Dog displays funny walking actions and ensures that the little one spends a good time with new friend. This cute doggy is a great gift for kids who have started walking usually aged 1 year and above.
Singing Frogs Bath Toy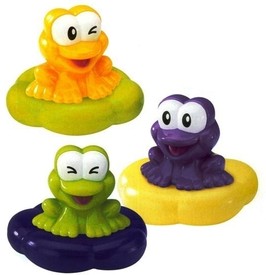 It is always challenging to give bath to little ones.These colorful floating frogs divert baby's attention from soap & water. The idea basically is to keep the baby engaged. The frogs whistle when you tap its head and brings a big smile on baby's face.
I personally find it very useful for parents who face hard time giving bath to their naughty little ones. Frogs are easy to hold and soft to touch.
Elephant Shape Sorter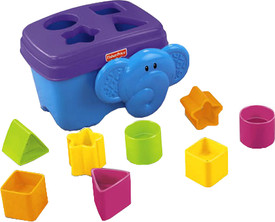 This is an educational and learning toy for the little one. 12 months & above is just the right age for kids to learn about shapes. This Elephant Shape Sorter proves to be a fun rather than a typical learning exercise.The colorful elephant and even more colorful blocks make this learning package extremely attractive. Blocks are easy to hold and grab for the little ones.
Laugh and Learn Puppy Play House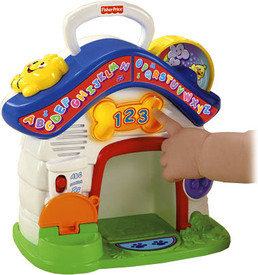 This one is also an educational and learning toy for the little one. The laugh & learn puppy play house help them learn the basics of mathematics, colours and animal sounds while allowing them to have unlimited fun with the little puppy. They can learn the concept of cause and effect, thanks to the realistic shape and the fun responses that are given with the pressing of each button. It is designed for kids aged between 6 months to 3 years.
Angry Birds Red Bird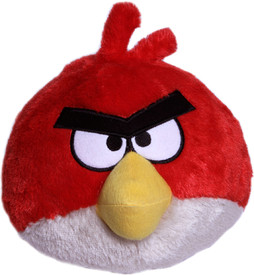 Not to mention that we adults got totally addicted to Angy Birds at one point of time, why should kids then be kept away from it. This red angry bird is a cute soft toy and I am sure the kid would love to have it.
The bright red color and a pointed nose makes it really very attractive. Child aged 12 months & above can cuddle this tightly. This can also serve as a pillow for them.
Bouncing Bee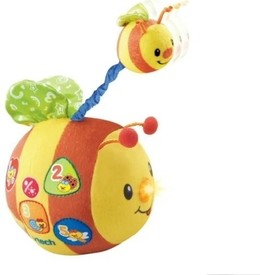 If not for the kid, I am sure going to get it for myself. This multipurpose bouncing bee is an educational toy. It comes with a pull and retract cord for easy bouncing. Crinky moving wings and bouncing antenna prove to be a good learning experience for the little ones aged 6 months and above. Bee also has fabric buttons that can be pressed to learn numbers from 1 to 5. Even the nose is fitted with a light which flashes along with the melodies that come from the toy.
Walk N Drive Truck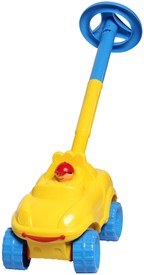 Like Digger The Dog, Walk N Drive truck is for the little ones that have started walking or are about to start. It is an easy to assemble, hassle free toy for the kids aged 18 months and above. Kids usually get excited to have a pair of wheels and zoom around the entire house. The kid can navigate while it walks around and surely it will learn about the directions.
Another good thing about this toy is that steering shaft (one in blue color) that controls the two front wheels of the truck, is flexible and adjustable, so it can grow as the child grows. The little one sure going to have his/her wheels for a long time.
Building Beakers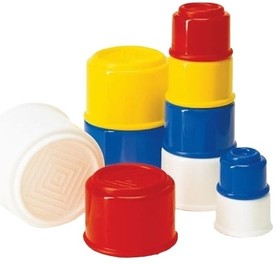 Building Beakers are multicolored beaker of various shapes and colors. Kid has to identify the right color and size beaker and create a tower. These toys are great in enhancing basic skills such as colors differentiation and understanding different shapes. It would be fun to see the kid getting it right after some trials. A great toy for the kids aged 6 months & above and the little one can spend hours playing with it.
Stacking Mouse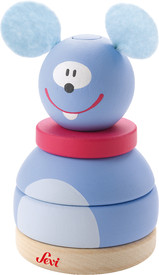 Just like Building Beakers above, Stacking Mouse can be disassembled and re-assembled again & again. It is an education toy for kid to learn shape differentiation. Fun part is the interesting cartoon character at the top with big ears and funny face. The little one will quickly learn that mouse face has to be at the top.
This toy is designed for kids aged 18 months & above to improve their eye-hand co-ordination.
Well, that was a list of 10 gift ideas for a 12 months old baby that I could come up with. Now comes the question, what I finally chose? Well, my inclination is always towards educational toys which are fun to play with & Bouncing Bee  perfectly matched my requirements. So, I gifted The Bouncing Bee and know what, my friend & her husband appreciated me a lot for my gift choice 🙂
I hope this list of gift ideas for an year old baby help you too to quickly decide on the gift. Let me know if you have more interesting ideas, would love to add them to my list and share with others on Ladies Kitty…!!