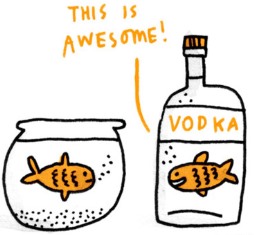 Things Required
Bottle of Vodka
Vodka glasses
A spoon
One tray
How To Play
Keep the bottle of vodka, six vodka  glasses,a spoon in the tray and give it to the player.
As the time starts, the player has to fill the glasses with vodka by using a spoon.
The first one to do so, should stand up and tap his or her glasses with spoon.
The twist is that vodka should not be spilled in the tray otherwise he is Out.
Optionally you can play this game with more than one player at a time and whoever fill his/her glass fastest will win the game.