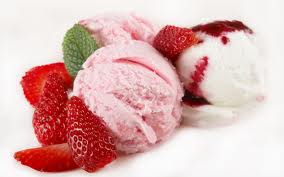 Number of People Required To Play The Game
No restriction. More the number of couples, more fun it is going to be.
Things Required
Frozen cup of  ice cream for each couple
Spoons
How To Play
Blindfold the male partners and line them up on one side of the room.
Let all the female partners stand on the opposite side of the room with a cup of frozen ice cream.
As the time starts all the female partners have to run towards their partners to feed them with ice creams.
They have to  take a spoon full of ice cream and  carry the spoon by the handle in their teeth and feed them.
This game has to be done without using any hands.
Winner
The couple who finishes their ice cream  first wins.