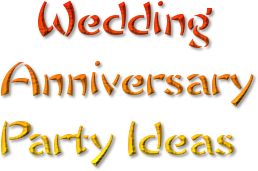 There is a saying that Marriages are made in heaven whether it is an arranged marriage or a love marriage. Once married, then comes the wedding anniversary where couples celebrate their love and commitment for each other.
The thought that you have spent a long span of your life with a person you love itself gives you a warm and contended feeling.  During these years the couple have seen many joyful, victory and sorrow moments but they stood by each other. Both of them have gone through a lot of experiences which have grown into a mature and understanding relationship  so having an anniversary party is a great way of celebrating all your old memories  which the couple has shared.
Wedding anniversary parties can make a new beginning for the couple who choose to celebrate their 25th or 50th anniversary. A wedding anniversary party can be formal or a casual party, It all depends on your budget and the kind of party you would like to have.
Since it is a milestone wedding anniversary party so why not celebrate just like their own wedding as it creates magical entertainment.  After decades of togetherness some couples choose to get marry again and take their wedding vows again.  While organizing Wedding Anniversary Theme Party, keep the following ideas in mind to make the celebration unique and memorable :
Send invitation cards to all the guests and also put a request that they have to share some of their favorite memories with the couple during the party.
Welcome your guests inside the party area with a personalized wedding banner.
Hang some silver, white, crystal or golden balloons with curling ribbon at the entrance.
According to the theme 25th or 50th wedding anniversary arrange candles, small wedding bells, table cloths and floral arrangements sprayed silver or golden on the flowers in silver or golden vases.
Get a personalized cake with the couple wedding picture on it which will give a special touch to the cake.
Keep similar food items, decoration, and the same venue as of their wedding, if possible.
Arrange for DJ or a musical band to encourage your guests for a dance competition.
Get a CD with the most popular songs from the era of their marriage date.
Make a collage of photos of the couple and family for display. You can also prepare a nice video.
Divide your guests into two teams as bride team and groom team.
Arrange the party in such a way as if some wedding is going on for example welcoming the groom team, jaimala, sat phere, joota chipai etc.
Make slips of words related to marriage like shaddi, dulha, pyar, mehandi, doli  and give these slips to  groom and bride teams. They have to sing maximum songs using dholak as if sangeet ceremony is going on.
Mix milk in water and put some rose petals along with bride and groom rings into it, Ask them to dip their one hand in it and find the rings. The one who finds first is the winner.
Since close family members take up the role of party organizers, so they have the opportunity to dig out some old pictures, videos, some moments of your togetherness for the last 25 or 50 years which can be displayed as a slideshow.
Keep an anniversary wish board with their wedding photograph for the guests to leave a message for the couple.
Arrange some gifts for the guests to be given to them as they had made your anniversary a memorable one like silver or golden photo frame, a bag of chocolates  wrapped in a silver foil with silver ribbon , or a box of cookies, some gold or silver plated jewelry item.