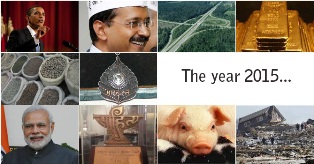 Things Required

A list of events held during the last calendar year
How To Play
Make a list of events held during the last calendar year.
These events can be from any field i.e political, sports, entertainment, science and technology, business etc.
The players have to guess in which month these events took place for eg.

In which month Delhi State Elections held?
In which month a massive earthquake hit Nepal and parts of North India?
In which month International Yoga Day was celebrated?
In which month US President Barrack Obama visited India?
In which month Saina Nahewal created history to become the first Indian woman badminton player by attaining the world number one ranking?
In which month Indi'a 11th President AJP Abdul Kalam died? etc.
Winner
The one who gives the maximum correct answers wins!!
We can also play this  game either way i.e write 10-15 events on a paper. The players have to number them in order i.e. one being the earliest and the last being the latest.