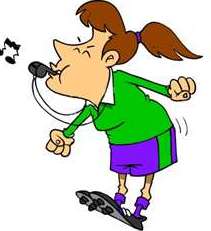 Things Required
Some snacks for eg. slice of fruit cake, donut or any sweet etc.
Whistles as per the no. of players
How To Play
Let all the players sit in a circle.
Give two slice of any snack for eg.  fruit cake, donut, any sweet etc. and one whistle to all the players.
As the time starts, everybody will put the cake in their mouth and start eating.
The game is  that everybody  have to finish their snacks and blow the whistle.
Winner
The first three persons to whistle wins the game!!