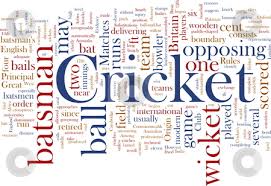 Cricket, cricket, and cricket, this fever is always there throughout the year whether it is a test match or one day international or 20-20 or IPL among us. Cricket is one of the most popular sports in the world. India is a cricket loving country. Since IPL is going on, it's the time to throw a cricket theme party. A theme party is fun which creates interaction among the guests. When we arrange a theme party, our focus should be on the topic in all areas of the party right from decoration to food, games etc.
Decoration
Decorate the entrance with different helium balloons. Draw with marker pens cricket related props like wickets, ball, bat, pitch gloves etc. on the balloons to give a feel as if you are entering the world of cricket.
Decorate the hall with posters of famous players.
Mark the entire area whether the party is indoor or outdoor with chalk just to give a look of cricket field.
Decorate the hall with balls, bats, wickets made from craft papers and hang through ceiling and walls.
To make your table decoration great keep vases in the shape of trophies, medal, ball etc. which will give an sporty look to the party with different types of flowers
Arrange the tables as cricket field and give them a name like square leg, mid-on, mid-off, fine leg etc.
Music is always an integral part of any party. Play inspirational songs from sports based movies like Lagaan, Iqbal, Ferrari Ki Sawari, Patiala House etc.
Also make some place for cheer girls.
 Dress Code

The ideal dress code would be jerseys of any of your favorite teams.
Cricket accessories like caps, gloves, shoes, can also be a part of your dress.
Arrange caps of different teams and give one each to the guests to wear as they arrive.
Host can wear Referee Coats and caps.
Food Ideas
Plenty of cool and chilled sports drinks, beer etc.
Cakes in the shape of green ground with brown pitch, wickets, cricket ball, stumps, bat etc.
Cupcakes in the shape of ball etc.
Games
Give pen and paper to everyone and ask them to write the names of IPL Teams. The one who writes the names correctly and at the earliest is the winner.
Match the pairs – one side write the name of players of different teams of IPL and the other side write the name of IPL teams.  They have to match the correct player with the correct team.
Identify the player – show some childhood photographs of players like Sachin Tendulkar, MS Dhoni or twisted pictures of players using computer graphics of the player.
Plan some simple sports games for kids such as tug of war, fun filled three legged race, sack race, a 5 over cricket match, catch the ball etc.
Return Gifts
A cricket themed mug set
Cricket bat and ball keying or cufflinks
Cricket mouse mat and coaster set
Cricket ball alarm Clock
Cricket bat bottle opener
Hope you enjoyed reading these ideas about cricket based theme party. Do suggest if you have some more party theme ideas, we will be glad to hear back from you as usual :).