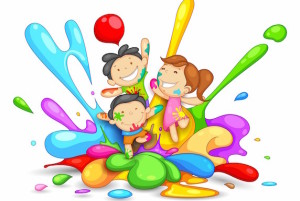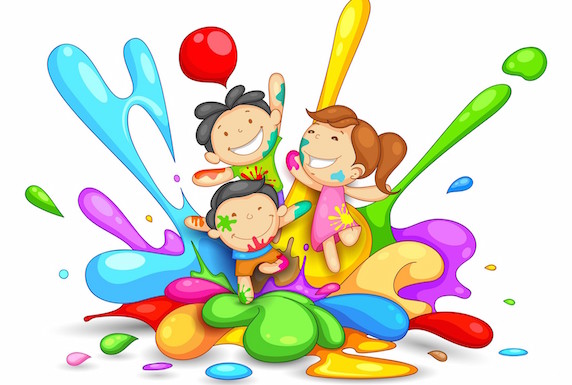 1. Holi Ke Aksharmala
An innovative game for holi party game. Check more about  Holi Ke Aksharmala
2. Holi Aayi Re
An innovative holi  tambola game based on holi songs Check more about  Holi Aayi Re
3. Holi Ki Sargam
A paper party holi game wherein the players have to fill the color name in the blanks of Bollywood hindi songs.   Check more about Holi Ki Sargam
4. Mohe Rang De
Mohe rang de tambola for holi party game. Check more about Mohe Rang De
5. Holi Songs Dhamaka
Players have to identify the moive names for the given holi songs.Check more about Holi Songs Dhamaka
6. Color & Beads
One minute party game in which players have to separate the bead from a bowl filled with same color using a small sieve.Check more about Color & Beads
7. Holi Snacks
Players have to identify the names of holi snacks.Check more about Check more about  Holi Snacks
8. Rango Ke Satth Dil Ki Baat
Give paper and pen to each player. She has to write a letter  to her husband using maximum colors for ex tumne mere jivan ko hara bhara kar diya hai, lal gulab ki tarah se yunhi mehekte rehan meri saaso mei zindagi bhar,mai tumhare gulabi sapno mei khoi rahti hun, tum neeli shirt mei acche lagte ho, tum gusse me jab lal peele hote to bahut bure lagte ho etc.. Time limit is one minute.
9. Bollywood Movie Names
Write hindi movie names which have color in it for eg. Black, Kala Pattar, Kala Sona, Lal Badshah  Neela Aakash, Safed Jhoot, Black Friday, Rang De Basanti etc. in one minute. The players who writes the maximum name wins.
10. Rang Mil gaye
Make packets of gulal as per the no. of guests but make two or three packets of mixed colors and keep them on the table.  Let everyone take one pack and open it and apply a little bit on their face. The guests with mixed colors are the winner.
11. Rang Laggo And Jeeto
Keep 5-6 colors of gulal at the entrance of the party hall.  Everyone has to put any three colors of their choice on their cheeks. Assign marks for each color for eg. 5 for red, 8 for yellow, 10 for green 12 for blue and 15 for pink etc.  Do not tell the marks to any one.  After everyone has done it, total the marks as per the colors they have applied.  The player with maximum marks wins.
12. Thanda Thanda Cool Cool
One minute party game to pick out 5 similar things from colored water in minimum time. Check out more about Thanda Thanda Cool Cool
13. Holi Tambola
Lets play tambola on holi with tickets customized with holi related things.Check out more about Holi Tambola
14. Taste The Holi Drink
A holi party game where each participant has to taste the drink and guess them as fast as possible in the right order.Check out more about Taste The Holi Drink
15. Target Glass With Coins
One minute game to put maximum coins in the glass. Fun part is that coin will float through the water and it will be difficult to put it inside the glass. Check out more about Target Glass With Coins