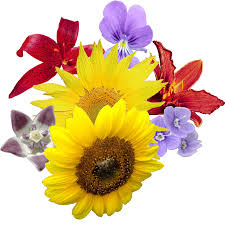 1. Musical Flowers
Cut large flower shaped chart papers and place in a row on the floor in place of chair. Play the music with flower themed song. The game continues just as Musical Chair
 2, Flower Rangoli competition
Make rangoli with using different types of flowers and their petals in two minutes
 3, Longest Garland
Make the longest garland with the help of needle, thread and flowers in one minute.
4. Singing Or Writing Competition
Singing competition i.e. songs with any flower name in the lyrics or write the lyrics of songs in one minute for eg. rajnigandha phul tumhare, Sasural genda phool etc.
5. Painting Competition
Give  some acrylic craft paint, paint brush, cotton etc. for painting a flower pot within a time limit.
6. Flower Jewellery Competition
Make flower jewellery like earing, ring, a string of flower for neck and your wrist etc. and wear the same.
7, Flower chain
All the players should stand in a queue  Give one garland to the first player.  Let the music start and everybody will start passing that garland. As the music stops, the player who is holding the garland is Out of the game and game continues till one player is left.
8. Making of Flower Garden
Give 15" x15" thermocol sheet, toothpicks and a basket of different kinds of flowers.  The players have to make a garden on the sheet using one toothpick for one flower in one minute.
9. Flower Tambola
An innovative version of tambola based on flowers. Check more about flower tambola
10, Flower Quiz
A paper quiz where you have to guess the names of the flowers based on the given clues. Check more about flower quiz…
11. Drop The Rose Petals
In this game player have to guess the answers and if the guess is correct rose petals shall be showered on his head. Check more about this game….
12. Flower Crossword
Create a crossword with flower names hidden in it or jumble the names of flowers.
13. Flower Craft
Give different kinds and colors of craft paper, glue, one inch different color ribbons and scissor for making different types of flowers within a stipulated time limit.
14. Find The Ring
This is a traditional game which every couple plays during their marriage ceremonies Check more about find the ring…
 15. Propose Your Partner
The game is that every couple have to propose each other in front of everyone holding a rose in his hand.  Check more about propose your partner…