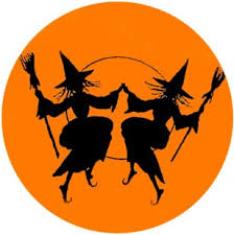 1.Halloween Musical Walk
Draw a big circle on the floor. Now either paste the picture of any Halloween character like mummy, full moon, bat, devil, ghost, pumpkin, spider, witch etc. or draw it on the floor.  All the players will stand around the circle. Blindfold all the players.  As the music starts, everybody will start walking in the circle  around the picture just like musical chair.  As the music stops, the players standing on the picture are out the game. Rest of the players can resume the game. The player who remains till the end wins
2.Pumpkin Bowling With A Treat
Take 6 old empty tins  filled with surprises for eg. candies, chocolates etc. Decorate them and use them as your pins. Take three small pumpkins and use them as bowling balls. Every pin has some winning points.  The player will get three chances to play.  Player with maximum points  wins with a treat.
3.Halloween Sticker Stalker
Give a sheet of 10 Halloween sticker to the guests as they arrive.  The game is that they have to stick one sticker per guest without their knowledge.  If the player is caught while sticking the stickers, he has to take his sticker back and that guest will also  stick one of his stickers on that particular player. The players can try again to put the sticker on the same person after some time. The first one to get rid of 10 stickers wins.
4.Halloween Tambola
A halloween party game for kids and adults which is a variation of traditional bingo game. Check more about  Halloween Tambola
5.Spider Ring Race
Mark a start and finish line on the table. The players have to blow a spider ring with the help of straw from starting to finishing point. The one who finish the race at the earliest wins.
6.Pumpkin Hunt
Take cut outs of pumpkins of different colors  for eg. orange, yellow, white etc. decorated with different funny faces (10 each color) Hide all the pumpkins in the party area. As the time starts, the players have to hunt the pumpkins. Time limit is one minute.  Allot some nos.to each color.  Add the numbers as per color of the pumpkins of each player.  The player with maximum nos. wins.
7.Creative Pumpkin Drawing
Give  orange balloons, black markers and tape to all the players. The game is that each player has to blow the balloon and tape it on the table. The players have to draw a jack-o-lantern on the balloon with black marker using only their mouth. Prizes can be awarded for the silliest or the scariest jack-o-lantern.
8. The Scary Walk
An interesting musical game for halloween party. Check more about The Scary Walk
9.Create Halloween Characters
Create your halloween characters is an interesting and creative game in which participants have to make halloween characters using various items. Check more about Create Halloween Characters
10.Know Your Halloween
An interesting quiz game for halloween party. Check more about   Know Your Halloween
11.Guess The Body Parts
A one minute halloween party game in which players have to guess maximum food which are in the form of different body parts. Check more about  Guess The Body Parts
12.Make Some Noise & Catch Your Prey
A funny halloween party game in which monster and players have to make noises as per their team name. Monster has to catch maximum preys by recognizing voices.Check more about Make Some Noise & Catch Your Prey
13.Egyptian Mummy
A fun halloween party game for kids as well as adults in which players have  to wrap their partner with bandage or by toilet paper to make him/her look like a mummy.Check more about  Egyptian Mummy
14.Pin The Tail On Black Cat
A halloween party game for kids as well as adults in which participants have to pin the tail on black cat with eyes blind folded. Check more about  Pin The Tail On Black Cat
15.Egyptian Mummy Bowling
A halloween party game in which bowling pins are wrapped in white gauge bandages to give a look of egyptian mummy. Have fun playing the traditional bowling in a different style. Check more about   Egyptian Mummy Bowling
For more Halloween Party Games click here