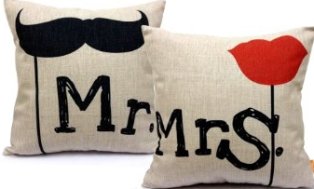 Things Required
20 heart shaped pillows
20 cards with strengths and weaknesses written on them (10each)
One big basket
Photocopy of game paper as per the no. of participants
How To Play
Write 10 strengths for eg. flexible, lively, caring, generous and 10 weaknesses for eg. blunt, aggressive, impulsive impatient, jealous, short tempered, clumsy etc.  on a paper.
Give one paper each to female partners.
Tell them to tick 5 strengths and 5 weaknesses on the paper.
Accordingly make 20 cards and pin them on the heart shaped pillows.
Put all the pillows in a big basket.
The game is that each male partner has to pull 5 pillows from the basket as per their wife's personality.
That can be either 3 strengths and 2 weaknesses or vice versa.
Time limit is one minute.
Match them with the list of the female partners.
Winner
The couple with maximum correct answers wins!!
It is a fun party games as it is easy to find out strengths and very difficult to find the weaknesses.