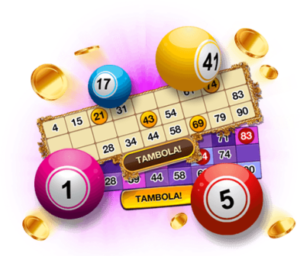 Things Required 
Tambola board and tokens
Regular tambola tickets
Pen/pencil
Prize money in form of  Rs.10/- currency notes
How To Play
Keep a part of  prize money in form of Rs. 10/- as Sab Khelo Sab Jeeto dividend besides  early 5, corners, rows, and full houses.
Give one tambola ticket to each player
Caller needs to pick up a token randomly and call the number.
If the number exists on the player's printout, he/she has to strike it as well as caller has to place the token on the board.
For every called no. the players have to raise their hands who have cut that no.
If there are three players they will get Rs. 10/- each and if the players are more or less than three then it will be considered as bogie.
Game will continue till  all the prizes are claimed.